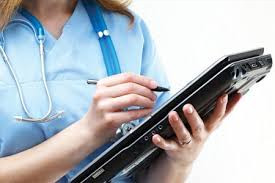 Can you answer the questions Who, What, When, Where, Why and How in your documentation? Can you identity where you documented these items:
What makes your patient Homebound?
What is the Skilled Need?
Is she or he making Measurable Gains in a Plan of Care being overseen by the physician?
Your documentation should always be able to support criteria for skilled homecare each visit, ensure reimbursement, pass through ADRs and avoid Denials. Let's take a look at how to improve your skilled home health care documentation skills.
---
PLEASE NOTE: This course DOES NOT cover the specifics of OASIS documentation requirements. Learn more about OASIS at Homehealth101.com/OASIS

PLEASE NOTE: this course is for Skilled Intermittent Home Health Care for Medicare Certified agencies; not private duty, non-skilled or non-medical home health care services .

---
These lectures are Power Point presentations. They may take a few minutes to load.
If you don't have Power Point you will most likely need a Power Point Viewer . You can download this for FREE. When you open the course, go to the READ ME FIRST section for information on Windows, Mac and Apps to download.
Do this NOW before beginning the course.

NOTE: Handouts are only available to the Multi Use License holders.

Pause, rewind or fast forward at any time through the Power Point Presentation. You can view over and over.

---
TECHNICAL REQUIREMENTS:

MAKE SURE YOUR BROWSER IS UPDATED TO THE LATEST (SUPPORTED) VERSION or you'll have trouble logging in!

Firefox and Chrome are recommended. Read more about this issue.

Don't forget to turn your SOUND UP!!!

---
If you have any questions about this course, please be sure to EMAIL ME.

Take a moment to read the Terms and Conditions before you purchase this course.